Stay Informed with Silesia Devices' Latest Innovations!
Meet Kamil and Ewelina, two students who joined our summer internship program at Silesia Devices. In this interview, they'll share their experiences and offer valuable advice for future candidates who may be interested in joining us next year. Get ready to discover what to expect and gain insights into the life at Silesia Devices.
Kamil: I'm Kamil, and I'm currently pursuing a computer science degree at the Silesian University of Technology. Come this fall, I'll be diving into my third year of studies.
Ewelina: My name is Ewelina, and my academic journey takes place at the same Silesian University of Technology, but my focus is on biomedical engineering. Just like Kamil, I'm gearing up for my third year once the summer break wraps up.
Małgorzata: Let's dive right into it—how did your adventure start here at Silesia Devices?"
K: I learned about the internship program P4S, led by the Silesian University of Technology, which partners with key businesses in Silesia to foster student development through internship opportunities. I was searching for companies that were involved in areas related to my field of study. Silesia Devices was involved in low-level programming, so I thought it could be a good fit for me. I contacted them, interviewed and got accepted as an intern.
E: I was also searching for an internship, and Silesia Devices was one of the companies that caught my interest. I wanted to develop my programming skills, but I also noticed that the company deals with digital circuits, which my studies didn't cover extensively. I wanted to explore this area.
M: That's a bit different from your academic background. Does it also originate from any personal interests or hobbies?
E: My studies are quite diverse, and we learn a little bit of everything. I try to find what suits me best, so I explore various fields.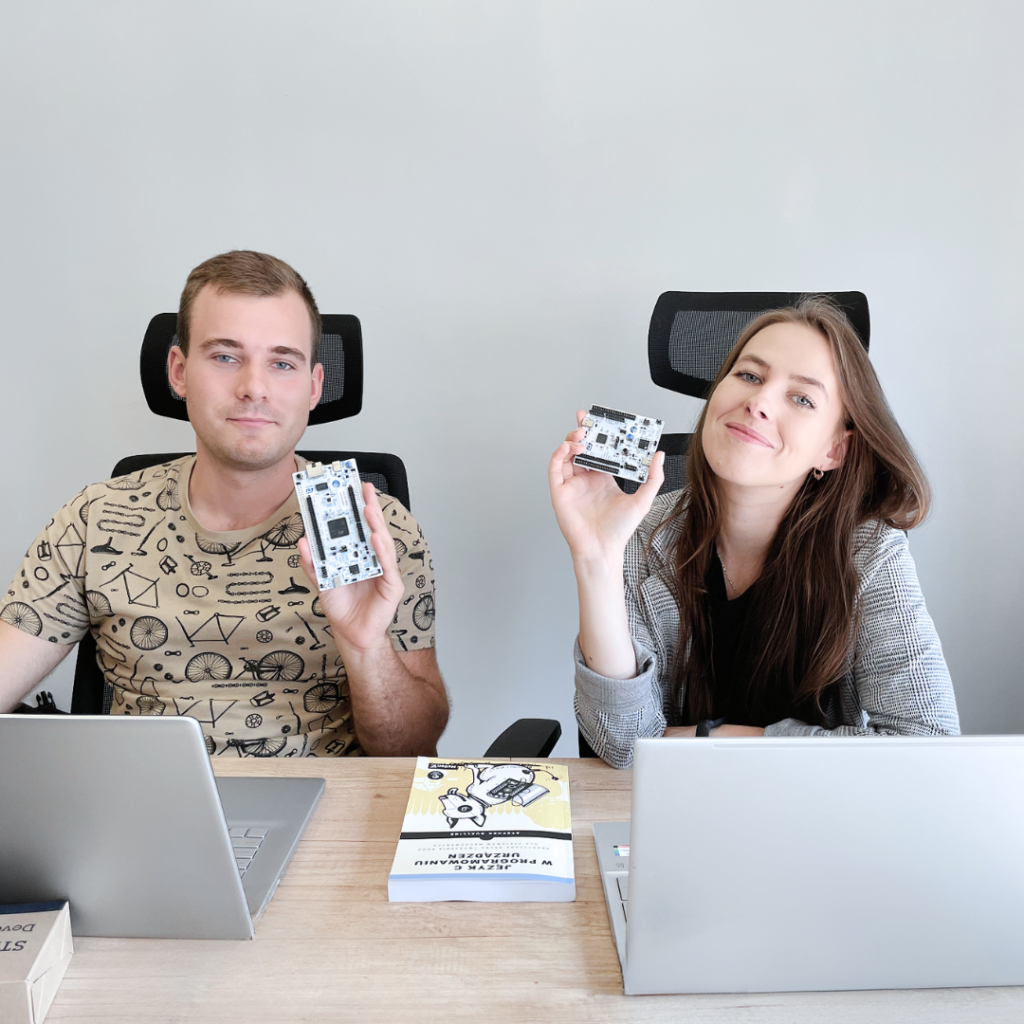 Kamil and Ewelina, participants in this year's last round of recruitment for the internship program at Silesia Devices.
In 2023, Silesia Devices launched the first edition of its Summer Internship Program. This initiative stems from our commitment to nurturing talent and addressing the decreasing interest in our field among recent graduates. Our internship program is primarily dedicated to students studying in the Department of Automation, Electronics, and Computer Science. However, we wholeheartedly welcome individuals who share a passion for hardware description languages (HDL) design to join us on this exciting journey.
During their internship at Silesia Devices, participants will have the chance to dive headfirst into the world of cutting-edge technology. They will work closely with experienced mentors and actively contribute to ongoing projects, gaining hands-on experience that is invaluable for their career growth.
Interns will also have the opportunity to undertake training projects, providing them with a comprehensive understanding of the practical aspects of the design process. This real-world exposure is an excellent way to bridge the gap between theoretical knowledge and its practical application.
One unique feature of our internship program is the potential to incorporate the practical portion of their thesis into their internship activities. This integration not only enhances their academic pursuits but also allows them to apply their research to real-world projects.
Upon successfully completing the internship program, exceptional participants will be considered for future employment opportunities at Silesia Devices. We believe in recognizing and rewarding talent, and our internship program serves as a stepping stone towards a promising career.
M: Kamil, you're already in your final week of the internship. What were your expectations, and how did the actual experience compare? Could you tell us more about how you've adapted here?
K: I wanted to see what working in the profession is like. The atmosphere here is very pleasant, and I don't feel the typical corporate stress. In fact, it's been quite the opposite. I found myself gaining not just technical skills but also a deeper appreciation for the friendly atmosphere. 
M: I must agree with you. One of the goals when founding the company was to create a friendly and creative work environment that fosters a healthy work-life balance.
K: Yes, I received a lot of support from my colleagues. There were moments when I doubted if this was the right fit for me, but I eventually realized that I could find my place here. The more I learned about FPGA, the more I enjoyed it.
M: Can you pinpoint any specific tasks you've worked on during the past three weeks that you found particularly enjoyable?
K: I think working with the electronic evaluation board was the most interesting. It was engaging to have a physical starter kit board in hand and experiment with it. Currently, coding is what I want to pursue professionally, so it is the most satisfying part. 
M: Do you see any skills that you've acquired here that will be beneficial in your future career?
K: Definitely low-level programming.
E: Also, the opportunity to work in an agile team using scrum methodologies is valuable. Gaining experience in applying these methodologies will be advantageous in the future.
M: Can you share what has surprised you the most during this internship?
Ewelina: I admit I was quite nervous before starting the internship because it's a specialized company, and I had only basic skills. However, the company considered that and adjusted the internship program accordingly. The longer I work here, the more confident I feel. It's not as intimidating anymore.
M: Do you believe your majors adequately prepared you for this internship?
E: In my opinion, my major doesn't fully prepare me for this internship. Our studies cover general basics, but to excel in this field, additional effort and learning are necessary.
K: My major is more closely related to this field. I believe I was well-prepared for this internship. My studies encompass both programming and digital circuits, so I had a theoretical and practical foundation. Now, I can further develop these skills in practice.
M: Are programmable digital circuits something that genuinely interests you after these experiences, or do you view it more as an adventure that will soon come to an end?
K: For me, it's a very interesting experience. I don't rule out the possibility of working in this field in the future. I initially chose computer science, focusing on high-level programming, but exploring what we do here has become one of my potential career paths.
E: When I feel more confident after completing the internship, it will be easier to determine whether I want to pursue a career in this industry. Right now, I'm still in the early stages of my learning journey.
M: Do you have any advice for interns who will join our program in 2024?
E: They shouldn't stress too much. At Silesia Devices, there's an atmosphere of cooperation and assistance, so they'll surely manage. However, it would be helpful for future interns to have some basic programming knowledge before they come here.
K: I agree with Ewelina. Without a foundational background, it would be challenging to do meaningful work here. Basic programming and electronics knowledge are definitely important.
M: Thank you, Kamil and Ewelina, for sharing your experiences with us.